STILL KICKIN HERO SEPTEMBER 2015
EVERY MONTH, OUR PROCEEDS SUPPORT A NEW PERSON OR ORGANIZATION WHO DEFINES WHAT IT MEANS TO BE STILL KICKIN.
MEET BOB AND ALICIA.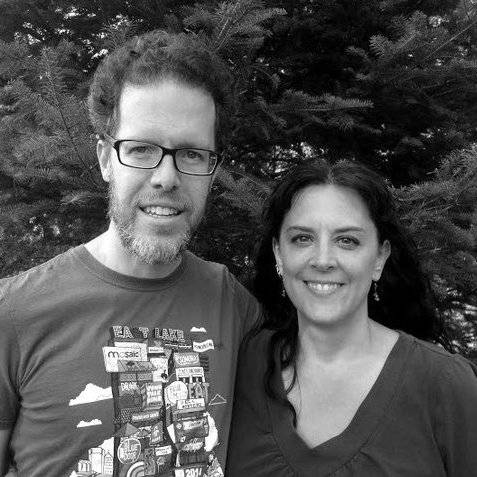 Every great love story needs three things: adventure, tragedy and love.
This is a great love story.
Bob and Alicia met at a party. It was the '90s – you remember the '90s, right? – and Alicia was on her way out of town. She was moving to Montana, and nothing, not even a tall, handsome man with a sweet and gentle demeanor, was going to keep her here.
But she still went out with Bob. And on their first date, they climbed a grain elevator in Northeast, and when he asked could he follow her to Montana she said "sure."
And then it all happened so fast, like love does. They had two children, they got married and they moved back to Rochester to raise up Lilly and Rowan.
Bob found his passion in union organizing, and Alicia taught science.
They were happy.
They were normal.
You know where this is going, right?
Bob wasn't quite feeling like himself. But he didn't expect that to mean he had Parkinson's. He was tall and strong. He worked out. He lifted weights and ran. Why would his body betray him like this? He was pissed. He stopped wearing his seatbelt. He took up smoking again. He had a case of the f*ck its, and who would blame him?
But eventually, that New Normal became just Normal, and Bob and the whole family settled into this new rhythm of life. It's for living, after all. Lilly started school at the University of Minnesota, and when Rowan graduated from high school, the whole family moved up to Minneapolis to be closer together. Bob and Alicia made Longfellow their home. They got into community work. They loved their new city. Bob kept lifting and running and living -- Parkinson's be damned.
You know where this is going, right?
Alicia started feeling… not quite right. Was it migraines? Maybe? Was it normal to walk downstairs and tell your husband you could only see half of the room? Nope. It wasn't a brain tumor. It wasn't migraines. But her MRI showed something else: Swiss cheese dots across her brain -- lesions from Multiple Sclerosis.
These things are not evident when you meet Alicia and Bob. It's not obvious – not immediately, anyhow – that they're both sick. That the past few years have been wrenching and shocking. What's obvious is their strong and indelible love for each other. The way they share small glances across a room. The way they are facing all of this – the sh*ttiest of sh*t – side by side.
They're our Heroes because sh*t happens. And it happens to all of us. None of us get out alive or without scars and bruises. And they have more than most of us. But they also have a big, beautiful love. The kind you don't find every day.
They have all the makings of a great love story, because they are one.