STILL KICKIN HERO OCTOBER 2017
EVERY MONTH, OUR PROCEEDS SUPPORT A NEW PERSON OR ORGANIZATION WHO DEFINES WHAT IT MEANS TO BE STILL KICKIN.
THIS MONTH, WE ARE SUPPORTING TWO HEROES: JUSTIN LENTZ AND JAMI FORCE.
Justin Lentz died on Christmas Day 2017 while surrounded by family and friends. His wife, Dana, and his kiddos are in our hearts.
Justin, you'll be our Hero forever.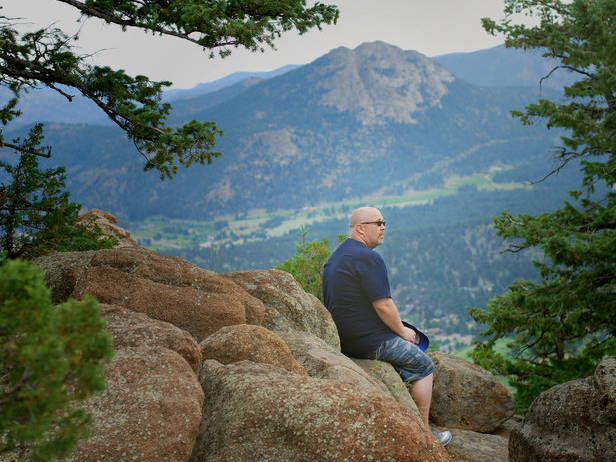 Dave Force died unexpectedly last June. "He was just getting to where he wanted to be in life," Jami says.
A couple of months ago, Justin Lentz sent us an application nominating his close friend and coworker, Jami Force, for one of our future Still Kickin Heroes. Her husband, Dave, had died unexpectedly at 39 years old, and Jami and her two young boys were grieving and learning to navigate life without their favorite guy.
Sounds pretty standard so far, right? That's kinda how things work around here. An awesome person nominates another awesome person, our board looks through those nominations and selects a new Hero, all you awesome people rally behind that Hero, and so on.
But things are different this time. Because after our board selected Jami as our Still Kickin Hero for October 2017, we learned Justin, her coworker (and nominator), had been diagnosed with Stage 4 pancreatic cancer.
And so the nominator became the nominee. Because sometimes the universe really likes to eff with people.Let's rewind a little bit.
On June 14th, Jami's husband, Dave, was rushed to the hospital after collapsing at work. At first, Jami wasn't too concerned. Her husband had battled health issues for years but was finally doing well. He'd just started his dream job. They were putting their house on the market in a few days. Dave's two young boys were looking forward to a summer filled with Cub Scouts (read: camping in tents) and sports with their dad. Life was good.
"When I got [to the hospital], they told me that I needed to sit in the waiting room, which I knew wasn't a good sign," Jami says.
Dave was already gone.
Later that week, after the rush of funeral arrangements and paperwork and visits from loved ones, Justin paid Jami and her two young sons a visit.
"He told me that he was going to be a father for my kids and that he would be there for me," Jami says. "Because he's that kind of person."
(If you haven't yet grabbed the tissues, we recommend you procure a box -- or two -- before you continue reading. Trust us.)
Dave Force and his boys. "He was a great dad, a great husband, and he was always working his butt off," Jami says.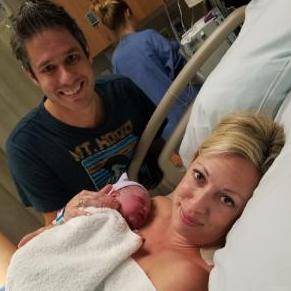 Justin, Dana and their newborn son, taken shortly after Justin was diagnosed with Stage 4 pancreatic cancer. "We're living minute by minute, day by day at this point," Dana says.
A few days after Justin's visit, Jami got a text from his wife. She thought it might be a baby announcement -- Justin's wife, Dana, was set to give birth to their second son any day. Finally, something to be cheerful about.
But it wasn't Dana in the hospital. It was Justin. And it was bad.
"[The ER doctor] came back white as a ghost and said, 'I don't want to be the one to tell you this, but … there's a mass on your pancreas,'" Justin says.
It was Stage 4 pancreatic cancer. And it'd already metastasized to Justin's liver and lung. And because things weren't quite hectic or stressful enough already, the day doctors gave Justin the official diagnosis, Dana went into labor.
"After getting some rough news, the baby was a little ray of sunshine," Dana says. "But then you're home to deal with real world stuff -- a newborn baby and, now, chemo."
For Jami, Justin's diagnosis was like another slap in the face after losing her husband. "I'd just gotten to the point where I'd stopped crying [after Dave's death], and that ripped me apart again," she says.
The unbelievable timing of it all -- Dave's death, nominating Jami, his cancer diagnosis -- isn't lost on Justin. "The irony was, we'd put [Jami] forward for consideration not knowing we may be in similar circumstances weeks later," he jokes.
So you can see why we had no choice -- we had to make both Jami and Justin our October 2017 Heroes. Because these through-thick-and-thin work BFFs need. an. effing. break.
"It's been a really crappy summer, to say the least," Jami says.
Justin started chemo the week after his second son was born. He still works full time from home and adjusts his hours and schedule as his treatments and condition allow. He and Dana know survival rates for stage 4 pancreatic cancer "are terrible," but they stay as optimistic as they possibly can and focus on the little victories.
"We wanna fight it to the end," Justin says.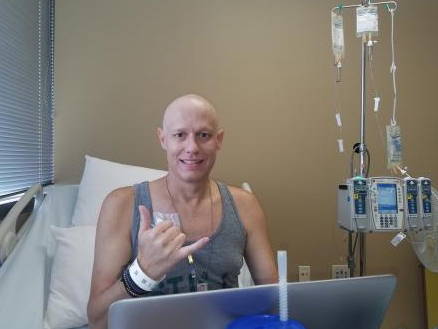 Justin will soon meet with doctors at Washington University to discuss possible clinical trials. "It's been humbling to hear from so many people who we don't know," Dana says.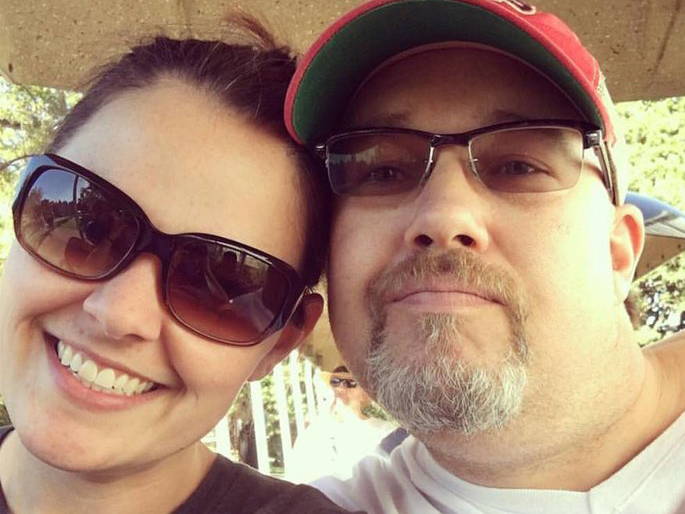 For Jami, her two young sons have been instrumental in helping her get through each additional day without Dave. She recently took them on their first overnight Cub Scouts trip "without Dad." (And yes, she got the tent set up just fine.)
"That's the hardest part: trying to step in and fill those shoes," Jami says. She later adds, "When I have moments like this, where I just want to break down, I look at [my boys], and I stay strong. I still cry in front of them, because I want them to know it's okay to cry. I want them to know it's okay to grieve," she says.
Your support this month will help these two friends and their families as they navigate this difficult time. And in addition to our usual monthly workout events and merchandise sales, we are taking pre-orders on a special Still Kickin t-shirt now through Oct. 15th. It's purple, for pancreatic cancer awareness (and also because purple is pretty). Get your order in by Oct. 15th. Your item will arrive on your doorstep early November.
"The generosity of people continues to amaze us," Justin says. "It's one of the big reasons we keep fighting -- we feel like we have this big group behind us."
Written by Jordan K. Turgeon