STILL KICKIN HERO: NOVEMBER 2016
EVERY MONTH, OUR PROCEEDS SUPPORT A NEW PERSON OR ORGANIZATION WHO DEFINES WHAT IT MEANS TO BE STILL KICKIN.
MEET DARTH VADER (YES, REALLY).
First things first: yeah, this guy's name is really Darth Vader. Truly. 100%. Legally. He signs his checks this way. It's on his driver's license. And no, that's not why we picked him as our November Hero, but it sure didn't hurt.

Darth Vader is a veteran (he served in the U.S. Marines). He's a single dad. He's 44 years old. That number, however, is definitely not the number he prefers to be associated with. He'd much rather tell you about the 31 half-marathons he's completed already this year.

Yes, you read that correctly.And if 31 half-marathons in one year seems like a ridiculous statistic (and if it doesn't, then you are very hard to impress and nothing will ever satisfy you), then Darth has a few other numbers to share:

- 22 Tough Mudder events...
1 full marathon...
1 triathalon...
Don't forget those 31 half-marathons...
...all in the past year alone.
Frankly, we're exhausted just typing that all out.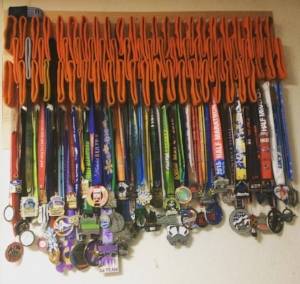 Darth's "bling board" -- current as of 11/1/2016
Oh, and did we mention? He accomplished all this while battling leukemia and with only one healthy leg.
Let's back up a bit, shall we?
You might say Darth discovered the leukemia accidentally. Doctors diagnosed him with chronic myeloid leukemia at age 30 during some routine bloodwork after an earlier surgery. It's rare to be diagnosed with this kind of leukemia at so young an age; it's typically seen and diagnosed in the elderly.
Rather than let the diagnosis bum him out, Darth tackled it head on. He grew up in foster care -- 8 different homes and 13 different schools throughout his childhood -- and had no support system to lean on. He was also raising his daughter alone. There was no time for him to fall apart.
"This was just another obstacle. This was just another 'thing,' and although it was life-altering and life-changing … it was just, 'okay, let's head this off and take care of this.'"
We can all agree that this totally sucks, right? But to hear Darth tell it, the leukemia was a mere nuisance compared to the real villain in this story: his left leg.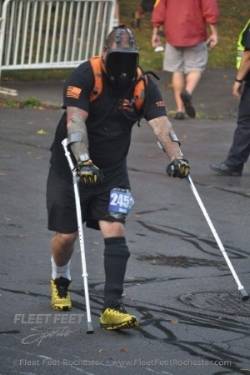 Darth Vader at the Rochester Half Marathon
Shortly after his daughter was born, Darth broke his leg in a sports accident. Over the past two decades, the former U.S. Marine has undergone 8 major surgeries and various other procedures to fix the injury. Nothing has worked. Currently, Darth wears a custom-fitted prosthetic brace below the knee.
"Dealing with the emotional and physical pain of walking on a leg that feels like it's still broken for over 21 years has been more of an issue than dealing with the cancer," he says.
What Darth must do now is have the leg amputated entirely if he wants to continue leading an active lifestyle (and, you know, not be in horrific pain every second of every moment of the day). Unfortunately, he hasn't found an American doctor willing to perform the surgery, and the amputation is considered an elective procedure by his health insurance company.
"Nobody wants to remove a leg, because once the leg's gone, it's a bell that can't be unrung," Darth says. "But I've been dealing with this for 21 years, so we're not dealing with a compulsive decision. Do you actually think I want to get my leg cut off and have a huge part of my body removed? Of course I don't … American doctors get hung up on the 'do no harm' thing, which I get. But for me, it's a quality of life issue."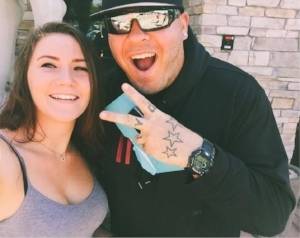 On top of the ongoing medical bills for his leukemia treatments, Darth has been saving up to have the amputation surgery done outside of the U.S. Oh, and he also needs a bone marrow transplant. SO MANY THINGS. All come with hefty (though life-saving and life-improving) price tags.
Despite the unimaginable pain, Darth continues to run countless half-marathons and Tough Mudders -- in his signature gas mask, while carrying the American flag -- regardless of how long it takes him to complete the courses. Sometimes, he finishes in last place. But that's not the point, Darth says.
"It's a huge feather in my cap to not only [finish the events] but to help and show people who are living with disabilities -- or living with depression or PTSD or something that you can't physically see -- that you can still go out there and participate, and you don't have to be the fastest."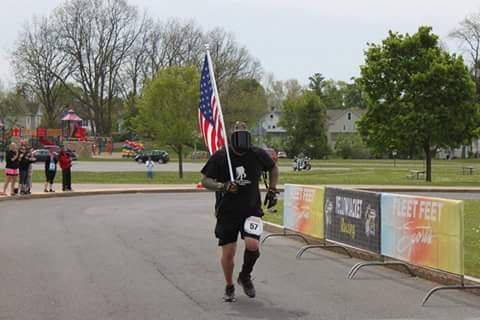 Darth at the Canandaigua Classic Half Marathon

We know what you're probably thinking. That's a lovely story. But what made this guy change his name to Darth Vader?
Darth legally changed his name two years ago. His reasoning was fairly simple.
"There's really no awesome answer for it, other than the fact that I wanted to. Growing up in foster care, not having a relationship with either of my parents … there was no namesake, there was no name to carry on … Superficially speaking, I get it. I see the wackiness with it. But at the end of the day, it's just something that I wanted to do."Sounds like a good enough reason to us.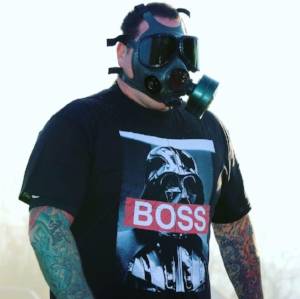 Darth at Tough Mudder Tennessee

For more about Darth, check out his Facebook page, where he regularly updates his "Beast List." In fact, he probably finished another half-marathon while you read this piece.
Written by Jordan K. Turgeon