STILL KICKIN HERO MAY 2017
EVERY MONTH, OUR PROCEEDS SUPPORT A NEW PERSON OR ORGANIZATION WHO DEFINES WHAT IT MEANS TO BE STILL KICKIN.
MEET MARION.
Marion passed away September 2017 after an unexpected leukemia diagnosis -- a side effect from her many rounds of chemo. She was a beloved mother and bright light. She will be our Hero forever.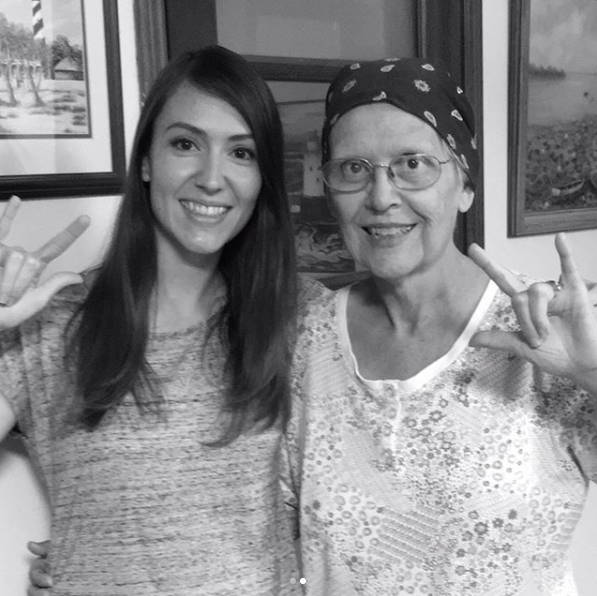 As far as mother-daughter bonds go, Sarah Walker and her mother, Marion, have one of the strongest connections of all time.
("That sounds a bit dramatic," you're probably thinking. But hang on! We have proof.)
Their connection is so strong, Sarah knew her mother had cancer before Marion did. (Told ya we had proof.)
Sarah is a CODA, which stands for "child of a deaf adult." English is actually her second language -- American Sign Language is her first. But Sarah and Marion often communicate without using any kind of language at all. They'll just look at each other and know the other wants to go to the movies, for example.
This brings us back to that spooky cancer thing. Sarah had a dream one night. A very scary dream. While she was living in New York and her mom was hundreds of miles away back home in Florida.
"I have never had a dream like it before or since," Sarah says. "I woke up sweating and sobbing so hard. I just knew from that moment on she had cancer."
Sarah called home the next day and spoke to her father, who mentioned Marion had been having some strange stomach pains. Not wanting to cause a panic, Sarah played cool as best she could and suggested her mom see a doctor. (Which is impressive, because we definitely would've had zero chill in that situation.)
But Marion was too busy taking care of others to worry about her own health. (Sounds like a lot of mothers we know.) Her son, Kent, was living with late-stage Duchenne Muscular Dystrophy. Marion had devoted much of her life to making sure Kent had the best possible quality of care.
Disturbed (to say the least) by the dream she'd had, Sarah sublet her New York apartment and moved back home to Florida. Shortly thereafter, Marion was diagnosed with endometrial cancer.
While her parents took care of an ailing Kent, Sarah took care of her mother as she underwent cancer treatment. And for a brief time, the Walkers celebrated some good news. In 2010, Marion was declared cancer-free!
But that's when the good news stopped. In 2011, Kent died at the age of 25. Less than a year later, Marion's cancer returned -- this time in both of her lungs. Doctors said it looked like snowflakes on her scans.
"I was scared," Marion says. (Sarah kindly provided interpretation during our chat.) "I didn't know if I was going to die. I tried to be positive."
Marion underwent 35 rounds of chemotherapy over the course of three years. Eventually, doctors ran out of treatments to offer and said there was nothing else they could do to help her.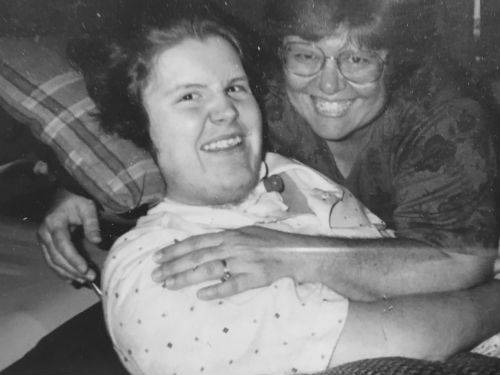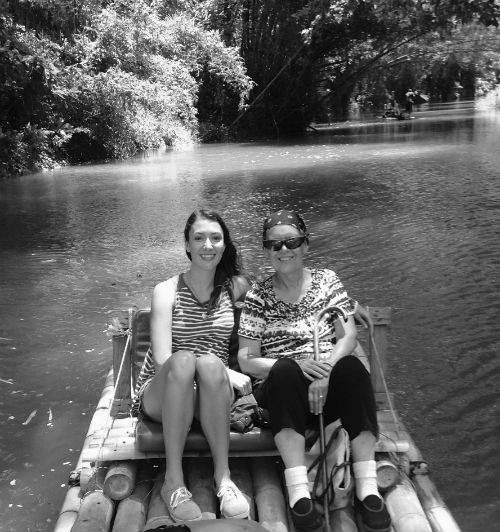 "They told me I was going to die and should go into hospice," Marion says. "And I didn't understand why, because I was feeling okay! I thought I was on my way to getting better."
So instead of hospice care, Marion picked her own game plan."I decided to live and fight," she says. "I said, 'This doesn't have to be the way. We don't have to give up.'"
One year after stopping chemo treatment, Marion is still here. There's no way to tell how much time she has left, so she and her family make every day as good as it can possibly be. She walks three miles each day. She meditates regularly. She eats healthy foods. Her hair is even growing back. For someone living with advanced cancer, Marion has few symptoms. She and Sarah dream of someday traveling to Ireland to trace their family's heritage.
"What she does every day is so heroic to me," Sarah says. "She's so resilient. She's along for the ride. But it's not easy. We're living in a perpetual state of uncertainty."
With this perpetual state of uncertainty comes continued expenses. Your support this month will help with Marion's care as she and her family make the most of each day she has left.
For Marion's part, she doesn't worry much about what's to come. She just wants to live as long as she can. And she wants to dispel any myth that suggests deaf persons are at any kind of disadvantage.
"Don't think that deaf people are handicapped," Marion says. "Deaf people can do anything. We can beat cancer."
Written by Jordan K. Turgeon