STILL KICKIN HERO JULY 2017
EVERY MONTH, OUR PROCEEDS SUPPORT A NEW PERSON OR ORGANIZATION WHO DEFINES WHAT IT MEANS TO BE STILL KICKIN.
MEET NICK.
Unless you've been avoiding the news lately to preserve your mental health (and we wouldn't judge you if you were), you're probably at least somewhat aware of the current unrest regarding health care in this country. In particular, it was recently reported that current legislation proposed by the Senate and House would drastically cut Medicaid spending over the next decade.
How drastically, you ask?
Well, the Senate bill would cut Medicaid funding by about $772 billion. The House's legislation? By about $834 billion.
So yeah, pretty damn drastically.
And Nick Fugate is just one of the millions of Americans who will be negatively affected if this legislation becomes law.
Nick is a people person. He's family-oriented. He loves going to work. He's a sports fanatic. He cares about everyone. When you're out and about with Nick, you feel like you're with a local celebrity, because everybody knows him.
Nick was also born with an intellectual and developmental disability.Ron and Julie Fugate strived to help their son live an independent life. After graduating high school, he started a job at a Kansas City area hotel, where he worked in the kitchen washing dishes. Nick worked at that hotel for 22 years (!) and diligently built up a solid savings account (which is way more than most of us can say).
However, a change in management left Nick without a job when he was 41 years old.
It also left him without health insurance.
And with aging parents.
"We had to make a decision then as to where Nick would go and how he would be able to function as independently as possible," Ron says.
He and Julie moved their son into Lakemary Center, an incredible organization that provides various supports for individuals with intellectual and developmental disabilities, ranging from residential placements to job coaching to social activities. They helped Nick move into an apartment with a new roommate. They helped him get a new part-time job. They assist with things the rest of us take for granted, like running errands. And Nick has thrived in this environment.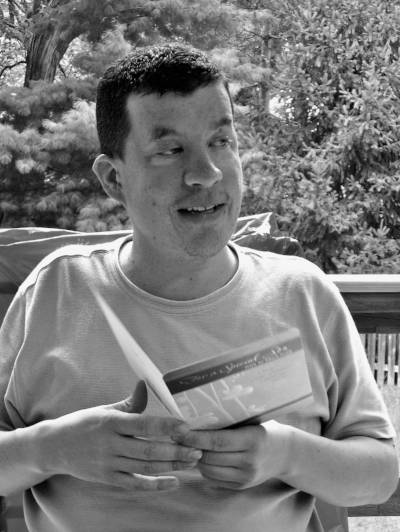 The good news? Medicaid funding helps people with intellectual disabilities -- people like Nick -- pay for these much-needed services.
The bad news? There is a waiting list to receive such funding. A waiting list that is five years long for Nick. Ron says an estimated 3,700 people in Kansas alone are waiting for the funding they need to pay for these supports.
"There's no way for us to identify precisely where Nick is on that waiting list," Ron says. "We know the list is going to expand, but we don't know where he's moved up to."
All this means Nick has been paying for these services out of pocket with the hard-earned savings he carefully put away for 22 years.
"He's basically spending down his life savings to be able to have those supports. Funds that were intended for his retirement," Ron says. "The idea is that his savings would be there to supplement what he doesn't get from Social Security and Medicaid and for other supports. Those funds will probably be totally spent down by the time he's eligible to receive Medicaid funding."
And this concerns Ron and Julie. They've worked their you-know-whats off for decades advocating for their son and others with intellectual disabilities. They've attended town hall meetings and demonstrations and have traveled to the Kansas state capitol to testify about their experiences. But they are also in their 70s, and though they maintain a positive attitude, they can't help but worry about their son's future.
"A lot of the parents of individuals on the waiting list are aging rapidly," Julie says. "The immediacy of the situation becomes more intense for those families … plan B is non-existent. Either one or both of the parents will pass away in due time."
Your support this month will help Nick while he waits on Medicaid funding. It will help him continue to live independently. It will help ease Ron and Julie's worry and shine a light on an issue that is affecting more families than we can count. An issue that could affect millions more families over the next decade if proposed legislation is successful.
"Cuts to Medicaid would have a direct impact on people like Nick," Ron says. "The need is not going to change -- there will continue to be individuals requiring this level of support."
Written by Jordan K. Turgeon