STILL KICKIN HERO FEBRUARY 2018
EVERY MONTH, OUR PROCEEDS SUPPORT A NEW PERSON OR ORGANIZATION WHO DEFINES WHAT IT MEANS TO BE STILL KICKIN.
MEET SYLVIA.
Sylvia Dennis loves babies. And sure, a lot of people love babies. But Sylvia really loves babies. She's currently training to become a doula so she can turn that love into a career (and help other moms at the same time). She once donated her surplus breast milk to a friend who was struggling to nurse. And she's a wonderful mom to her own four kiddos.
She's also very familiar with the ins and outs of mental illness and developmental disorders.
Two years ago, after giving birth to her third child (a boy named Avi who, FYI, has the cutest head of curls we've ever seen), Sylvia experienced what approximately 1 in 7 women do after childbirth: postpartum depression. And in the process of treating her PPD, Sylvia learned she'd been living with undiagnosed obsessive compulsive disorder for years. Her husband has also struggled on and off with depression in the years following his service in the U.S. Air Force. And on top of all of this, the couple's two oldest children -- daughters Ari (6) and Adlai (4) -- were both recently diagnosed with autism.

Sylvia and her children. Because when you're a busy mom, sometimes a blurry cell phone pic is the best you can get!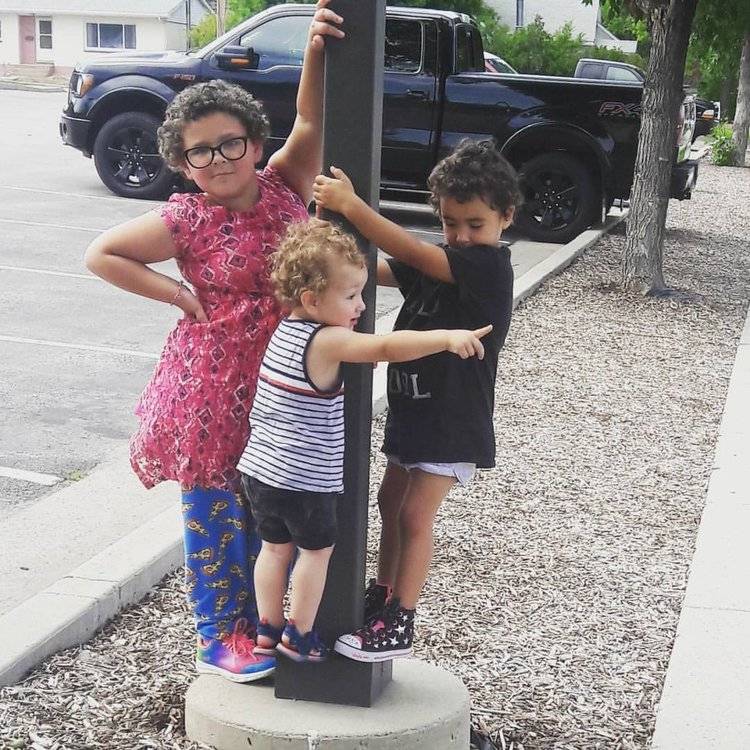 An autism diagnosis, on its own, is often difficult enough for a parent, but it's been especially hard for Sylvia. She and her family live in South Dakota, and securing the services her daughters need has been a challenge.
"It took me almost a year and a half to get [my daughters] into any kind of therapy," she says. "At one point, a pediatrician here told me, 'Girls don't get autism.'" (This is, of course, absolutely false. If anything, autism in girls is often underdiagnosed or misdiagnosed. But we digress.) "Where we are in South Dakota, it's not very forward-thinking on things like this," Sylvia adds. "Even with our school district now, they'll often say, 'Ari doesn't strike me as autistic,' and I have to tell them, 'Well, she is.'"
Money has always been tight for Sylvia and her family since her husband's Air Force service ended, but this past fall, the Dennis family had finally gotten to a point where they could do something a lot of us take for granted: go out to dinner as a family. Nothing fancy -- we're not talking about a steak dinner, here. Just a casual meal at a local spot with all of the kids.
"We thought we were doing so well," Sylvia says.
But depression is a sneaky son of a &@$#! that tends to strike as soon as you stop bracing for it. Just before Thanksgiving, Sylvia's husband attempted suicide and spent several days in the hospital ICU. He survived (THANK GOODNESS) but missed a ton of work (UNDERSTANDABLY).
"He said it wasn't like he was ruminating on suicide," Sylvia says. "It just kind of hit him."
As the Dennis family recovers (the whole crew is currently in counseling -- HOORAY counseling), the day-to-day has been especially difficult, given the mounting medical bills from her husband's hospital stay and the cost of occupational therapy services for their two daughters. Sylvia told us she frantically texted a friend when she recently ran out of milk. Her paycheck was still days away, and she wasn't sure how'd she make ends meet until then.
At one point, Sylvia's adorable curly haired son, Avi, "interrupts" our video chat conversation. He smiles and giggles and clearly adores his momma (and the camera). And Sylvia makes sure to tell us that she knows her situation could be worse. That there are people and families out there who have it tougher than she does. That she doesn't consider herself a hero.
"I'm really good at minimizing everything, because I kind of have to," she says. Then, she admits, "But it's been hard."
Your support this month will help Sylvia and her family get back on their feet. It'll help keep her kiddos smiling and giggling.
Written by Jordan K. Turgeon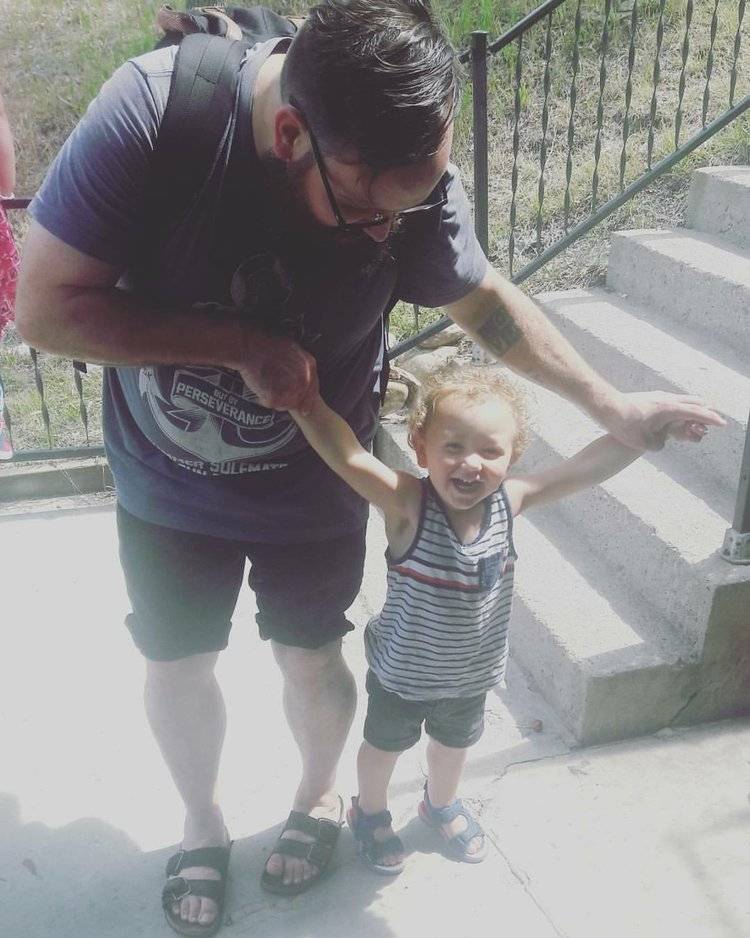 Sylvia's husband with son Avi (2)