STILL KICKIN HERO: FEBRUARY 2017
EVERY MONTH, OUR PROCEEDS SUPPORT A NEW PERSON OR ORGANIZATION WHO DEFINES WHAT IT MEANS TO BE STILL KICKIN.
MEET ELLA.
Take a moment and think about what your life was like just days after your baby was born.
If you aren't a parent, just imagine life for your parents after you were born. It probably included some combination of changing poopy diapers, feeding the kid repeatedly, and a whole lot of napping (on the kid's part; no sleep for the parents, obviously -- what do you think this is, a vacation?).
It wasn't like this for Melissa and Will MacPhail. Their daughter spent her first few days of life in the NICU as they anxiously waited for answers.
And on day five, their world was turned upside down. Because their brand new baby girl, Ella, was diagnosed with an extremely rare chromosomal disorder called trisomy 12p.
How extremely rare is this disorder, you ask? At the time, Melissa and Will were told there are only 40 known cases of trisomy 12p worldwide.
So we weren't exaggerating when we said it was rare. Just a few dozen people on the entire planet have the same disorder as Ella. Which means Melissa and Will were entering largely uncharted territory.
And they were scared. Who wouldn't be? Ella would most likely have significant cognitive delay. She might never walk. Might not talk. The MacPhails were told they would "just have to wait and see what happens."
For a while, Ella's disorder wasn't outwardly apparent. She did the "usual baby stuff" that all little ones do (of the aforementioned eating, sleeping and pooping variety). But as the years went on, the cognitive delays and the developmental gaps between Ella and other kids her age grew bigger. She couldn't hold her head up. She couldn't sit on her own. She never said her first word. She suffered hearing loss. She developed a swallowing disorder and couldn't easily eat.
"I had that book -- What To Expect The First Year -- and I stopped reading it," Melissa says. "Because it didn't apply to my kid. It didn't apply to me. We had a different reality."
Ella is now 9 years old, and this little girl with enviably curly hair is quite the people person. She's a mellow, low-key kid who is almost always happy. "People get worried when they don't see a big smile on her face," Melissa says, "Because she's always smiling." Her daughter loves movement and claps along to the music at church on Sunday. She enjoys swinging and going for walks.
And, like pretty much every other kid we've ever met, Ella loves attention and is most content when surrounded by others. She just wants to be close to you.
"People get worried when they don't see a big smile on her face. Because she's always smiling."
This past summer, a group of amazing humans banded together to raise money so the MacPhails could get a wheelchair accessible van for Ella. It's changed their lives dramatically, because it means the MacPhails can travel as a pack without leaving anyone out.
And they're indeed a pack. The MacPhail family has expanded to five, with two younger siblings for Ella: a 4.5-year-old brother and a 2-year-old sister. They adore Ella, of course. (Just look at the below photo -- our hearts could freakin' burst). Melissa and Will's son, in particular, has grown very protective of his big sis, as brothers are wont to do.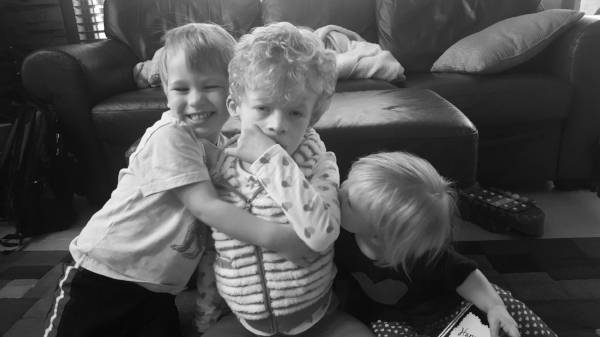 As she grows up, Ella will continue to need special services. She's already had two major surgeries to fix her spine and her hips. She experiences seizures on a daily basis. Her hearing loss necessitates the use of a hearing aid.
She handles it all like a superstar, of course. But while some things -- like diapers -- are covered by insurance, others -- like the special thickener the MacPhails must buy each month to prevent Ella from aspirating her food and ending up in the hospital -- are not. And the financials can be worrying.
"I'm thinking about Ella 24/7. And she's non-verbal, so I'm constantly trying to figure out what she might or might not want or need," Melissa says. "We forget that other families don't have to worry about these kinds of things or spend money on these kinds of things."
We had to practically pull that last bit out of her, and even as she said it, Melissa's voice was upbeat. The MacPhails are a positive bunch and as grateful as they come. They aren't the kind of folks to complain or focus on the challenges.
Your contribution this month with help the MacPhails with Ella's ongoing medical care. It will also help make sure this cheerful young girl can continue to always be included in family outings. The MacPhails are saving up for a special trailer that will allow Ella to be towed behind a bicycle in her wheelchair. Just in time for spring! (It is almost spring, right? Right?)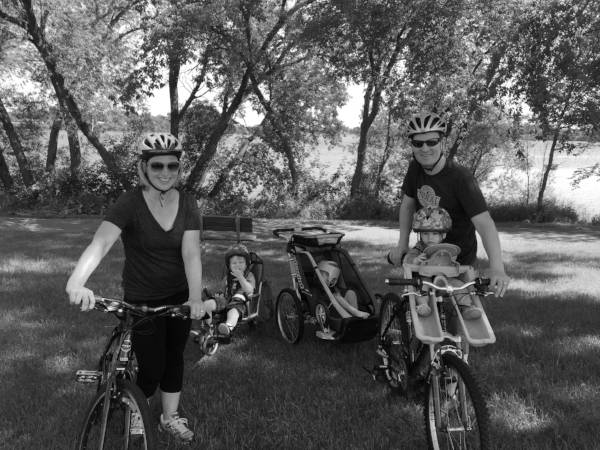 If you're a parent, you've probably bragged about your kid once or twice (or a bazillion times). Melissa and Will are no different when it comes to Ella.
"As she learns new skills to become more independent, she works so hard to perfect that skill," Melissa says. "Whether it's crawling, pulling up to furniture, walking in her gait trainer or feeding herself, she knows what she wants, and she goes for it. It's inspiring."
Go get it, Ella.
Written by Jordan K. Turgeon