STILL KICKIN HERO FEBRUARY 2016
EVERY MONTH, OUR PROCEEDS SUPPORT A NEW PERSON OR ORGANIZATION WHO DEFINES WHAT IT MEANS TO BE STILL KICKIN.
MEET TERI.
Teri Twardowski died on Sept. 30, 2016. She was a beloved mother, grandmother and wife. She'll be our Hero forever.
When Nora's son Ralph plays trains, the tracks are merely a suggestion. The train can go anywhere, and it does.
Deep conversations are like that, too. You can pick up that first thought 10 minutes after you've detoured through cancer and marriage and the loss of a child. In fairness, that's how a conversation with Teri should go. She's two rounds into 12 rounds of chemo for the second recurrence of a cancer that is best described as sneaky and… everywhere.
The second day of chemo is the hardest. It's when the nausea shows up and the fatigue settles in, but she's got time to call me before her grandkids come home from school and daycare, when her quiet house fills back up with the sounds of life and love and homework.
The kids have been living here since their mother – Teri's daughter, Ashley – died unexpectedly and suddenly this winter. Just after Teri's cancer came back.
It's dark right now.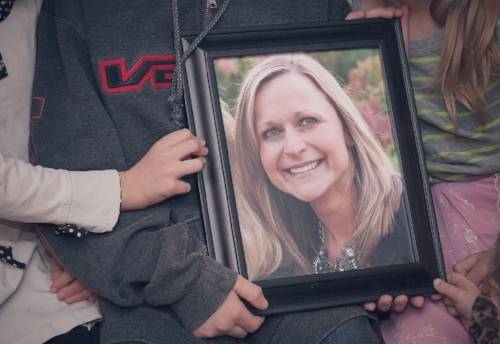 This is the kind of shit that you think can't happen to one family. Except it does, and even if someday time will heal you and it will all be okay and blah blah blah, right now, it's hard.
It wasn't always like this, though.
---
Teri had a normal life. A solid marriage with her beloved Ron, who she married right out of high school like she was living in a Taylor Swift song before Taylor Swift was even born. Four beautiful kids. Eight amazing grandkids.
And then (there is always an "and then") Teri didn't feel good. Maybe it was ulcers. Maybe it was any number of things doctors thought it could be. But no. It was cancer. Colon Cancer that turned out to be Everywhere Cancer. And perhaps 4-6 months to live.
But her daughter, Ashley, wasn't having it. She found the doctor who could save her mother's life. He was in D.C., and he was highly sought after, but Ashley got in touch, and Teri was off to D.C. for 12 hours of surgery, determined to live.
"I thought: I can live! I can live!" Teri says.
Ashley and Teri were the kind of mother-daughter duo who spoke every day. Not always long conversations but enough to check in.
"I just needed to hear her voice every day," Teri says.
One day in December, when Ashley didn't pick up her phone and didn't reply to texts, Teri knew something was off.
Moms. Always. Know.
Teri was right, but not the way she expected to be, and a few weeks later, she was decorating her Christmas tree with her grandchildren, helping them have a normal holiday even though their mother had died just weeks before.
The kids chose their mother as their Christmas theme, hanging photos of her from the tree and writing letters to her. That night, they each lit a wish lantern and released it into the cold Minnesota sky, four little lights shining bright in the darkness.