STILL KICKIN HERO DECEMBER 2017
EVERY MONTH, OUR PROCEEDS SUPPORT A NEW PERSON OR ORGANIZATION WHO DEFINES WHAT IT MEANS TO BE STILL KICKIN.
THIS MONTH, WE'RE DOING SOMETHING A LITTLE DIFFERENT.
A message from our founder, Nora McInerny:
I started Still Kickin almost three years ago. I set up an LLC. I built a Squarespace page. My buddies at Cotton Bureau set us up with their t-shirt source, their printer and their warehouse, and I put it all on my personal credit card while Lindsay Wenner sat in the basement of COCO Uptown with me.
"Does this make sense to you?" I asked her. "Every month, we'll pick a person who is going through something crappy and give them money?"
Yes, she assured me. She could understand that concept.
We had to call that person something, so we called them our Still Kickin Hero.
Wildly, crazy creative, I know.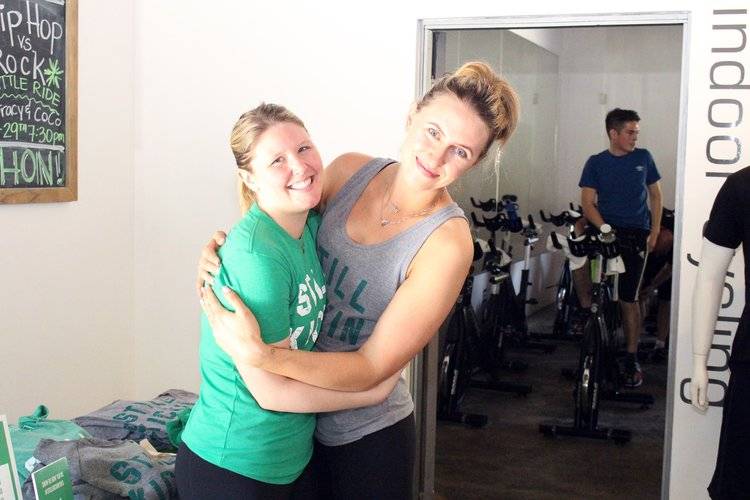 Lindsay and Nora / Photo by Hector Juarez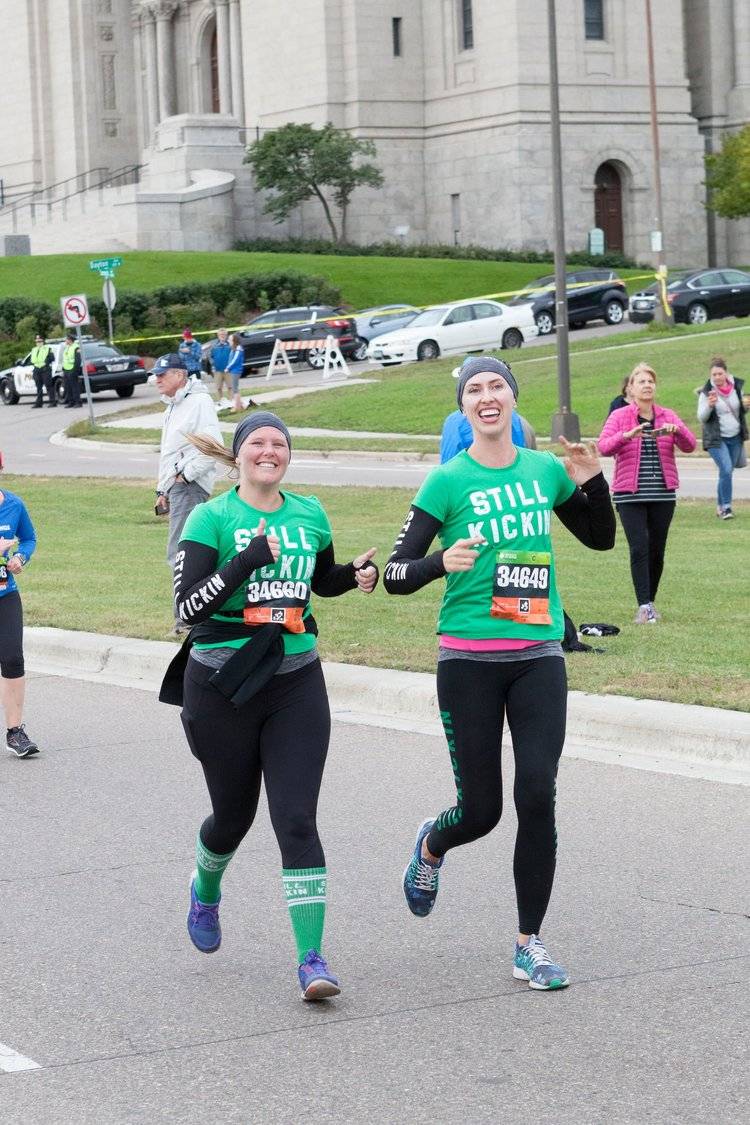 Lindsay and Nora running the TC 10-Mile / Photo by Melissa Floyd Photography
Our first Still Kickin Hero was Scott. He had the same kind of brain cancer my husband Aaron had died from. And his wife Tracy and their four kids would need help.
We had never run a business.
We had never started anything except a Netflix marathon.
We had no idea what we were doing (probably explains why I PUT IT ALL ON MY PERSONAL CREDIT CARD).
But we knew exactly why we were doing it.
Because we all go through hard things. We don't get to choose what the thing is or when it happens. It just happens. Life kicks us in the neck. Or the butt. Life has long legs and is highly flexible -- it kicks you wherever it wants to.
We don't get to choose the outcome, but we get to choose what we do with it. I watched Aaron go through three years of surgery, radiation and chemotherapy. I watched his body be eaten alive by cancer. I watched him smile through it.
When he died, and when we were in financial free fall, I had so much shame. Because the Internet had shown up for us with a safety net and caught us. An online fundraiser helped keep Ralph and me afloat. My inboxes were filled with kind words. And I knew that not everyone got that. Not everyone had a community to catch them when they needed catching.
So we built one.
That's what Still Kickin is. It's not just a t-shirt (or several t-shirts and also some other goods). It is a way of being a safety net for other people. It is a way of showing up.
And so many people have showed up.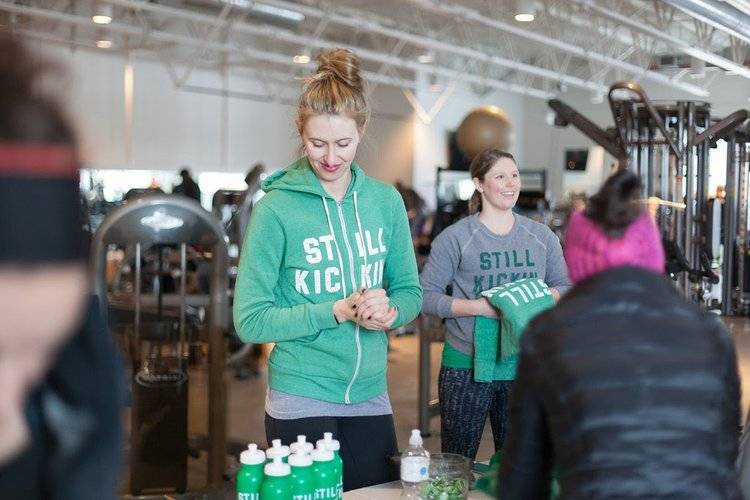 Nora and Lindsay / Photo by Melissa Floyd Photography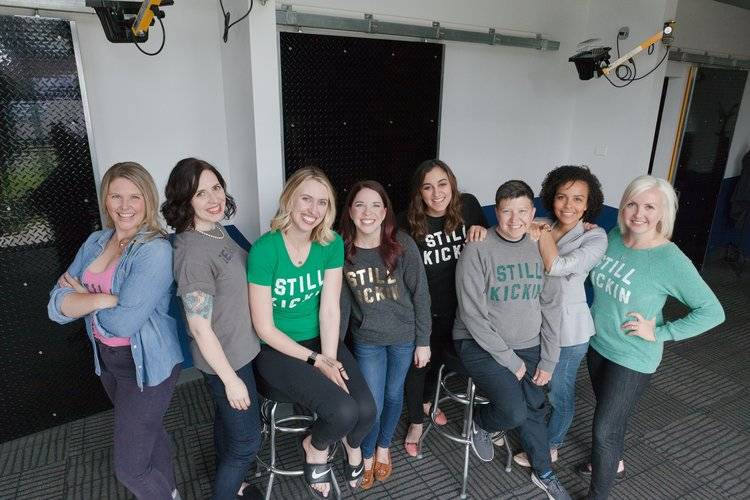 Still Kickin's board of directors / Photo by Melissa Floyd Photography
We have been doing this for nearly three years with a (hard) working volunteer board. A team of (truly astounding) volunteers who help update the website and send the emails and manage our social media and take photos and create videos and coordinate events. (Did we mention all of these people are volunteers?)
The person who was by my side that first day -- Lindsay -- works a freelance job while also giving 30 hours a week to us. That is bonkers, and I have tried to stop her. But she is hard to stop.
We shifted from a business to a non-profit model after my accountant pointed out that giving away all your money is not a business and also how was I going to pay my taxes? (WHOOPSY!)
To date, we have sold tens of thousands of shirts on 6 continents, 14 countries and 43 states. We've given more than $70K to our Still Kickin Heroes. We now have a store in the Mall of America, a partnership with lululemon and an office space in Northeast Minneapolis, where we'll be opening a showroom and hosting events.
Our 2018 goal is to have Lindsay actually be compensated for her work as our executive director.
Wild, right?
So this month, we're using those donations and sales profits to make sure that goal becomes a reality. Our regular Hero schedule will resume in January 2018, and we're focused on growth that will help us increase the support we give to each monthly Hero.
The biggest difference, as I write this from our new office nearly three years after launching Still Kickin, is that we know what we're doing. But more importantly, we still know exactly why we're doing it.
Your support this month will help Still Kickin grow. It will help us help more people in 2018. Thank you for making it all possible.
Love,
Nora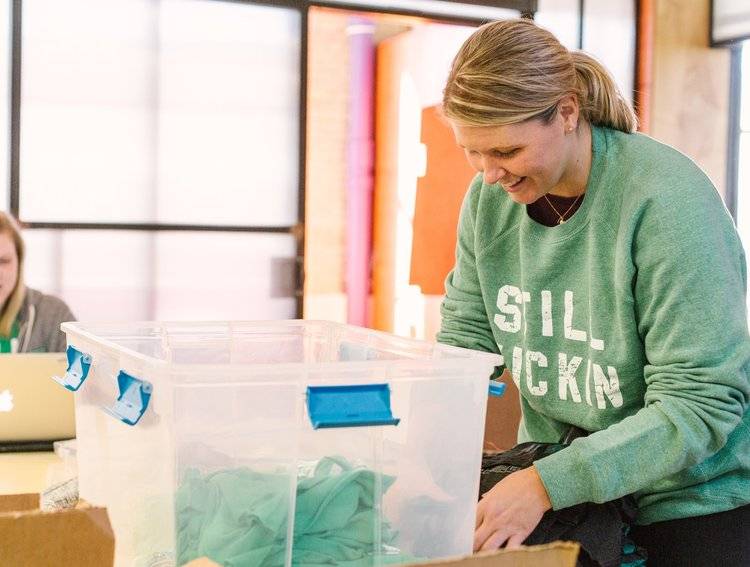 Lindsay at the new Still Kickin office / Photo by Kylee and Christian Creative