STILL KICKIN HERO DECEMBER 2015
EVERY MONTH, OUR PROCEEDS SUPPORT A NEW PERSON OR ORGANIZATION WHO DEFINES WHAT IT MEANS TO BE STILL KICKIN.
MEET SAM.
Sam Lee died on March 14, 2016. He was 5 years old. He loved his sisters and Curious George and soft blankies. He'll be our Hero forever.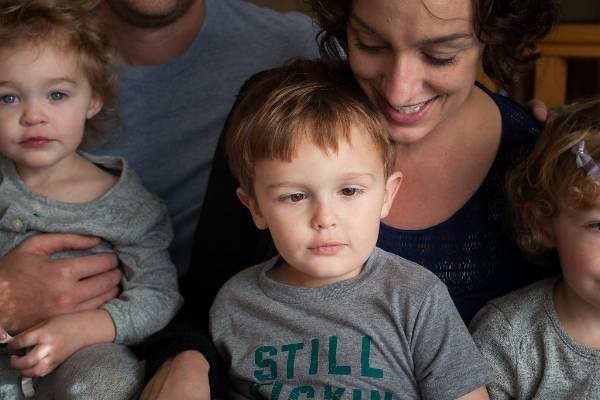 A mother always knows when something isn't right with her child. So when her 2-year-old son's eye looked a little off one day, Erin knew it wasn't nothing. And of course it wasn't.
Erin's firstborn had an incurable brain cancer, known as DIPG (or, as it should be referred to, ARE YOU F*CKING KIDDING ME, UNIVERSE?).
It didn't take long for Erin to realize that childhood cancers get the short end of the cancer research-funding stick. Like, really short. As in, only two drugs approved over the past 20 years, neither of which would promise more than just a little more time with their favorite guy.
So Erin and her family sprang into action. They took amazing trips with Sam and his twin little sisters. They loved the hell out of him and raised him to be a very funny kid who can roar very convincingly like a lion and who wore a Still Kickin shirt only after a lot of coaxing because he already liked the outfit he had on that day (WE GET IT).
And they formed With Purpose. And they raised nearly $60,000 for childhood cancer research.
For years, they have worked to create a normal life for a boy whose life is anything but normal. They've gone to bat for kids around the world who face similar issues.
And now, we're here to go to bat for them. (Holy crap, sports references? Is this even the right phrase? We hope so.)
This month, money from your purchases will go towards giving Sam's family the support they need to care for him and his sisters, because the last thing you should worry about when your kid has cancer is stupid money, which is only a social construct, right? Right.