STILL KICKIN HERO March 2020
Every month, we provide financial support to an awesome person or family going through something awful.
Meet Tyriek.

Tyriek Lewis was just 19 years old — and getting ready to suit up for football season at Truman State University in Missouri — when he suffered a massive stroke while hanging out with friends. An aneurysm behind his right eye had grown so large that it'd cut off blood supply to the right side of Tyriek's brain.
The aneurysm clotted itself, and Tyriek was brought out of surgery to see if his brain could heal on its own. Miracuously, Tyriek began responding to commands within an hour. He'd lost sight in his right eye and function of his left arm and leg. He spent three weeks in the ICU and another month in an inpatient rehab hospital.
Tyriek credits his father, who died from complications of a blood clot when Tyriek was 15, with saving his life from heaven — had Tyriek's aneurysm burst, it would've caused catastrophic and likely irreparable damage to his brain.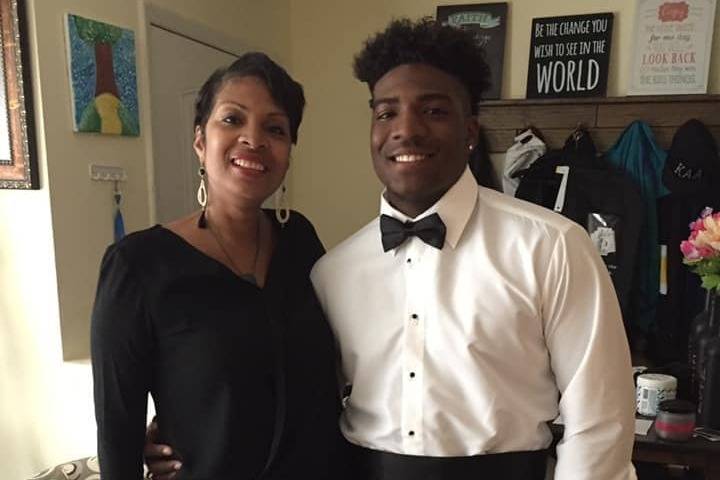 Tyriek has been working since he was 14 years old (as a youth baseball umpire and at the local children's museum) and is living with his mother. Now that he can no longer play football, he's lost his college scholarship. On top of that, the duo recently had to move to a new, more accessible apartment.
But none of this has stopped Tyriek. He's now walking without a cane and is working on regaining use of his arm. He's taking classes at a local community college and hopes to pursue a nursing degree. Everyone who knows him continues to be moved by his positive attitude and determination. Still Kickin is giving Tyriek a no-strings-attached financial grant to #HelpAHumanOut.