STILL KICKIN HERO AUGUST 2017
EVERY MONTH, OUR PROCEEDS GO TO A NEW PERSON OR ORGANIZATION WHO DEFINES WHAT IT MEANS TO BE STILL KICKIN.
MEET TESSIE.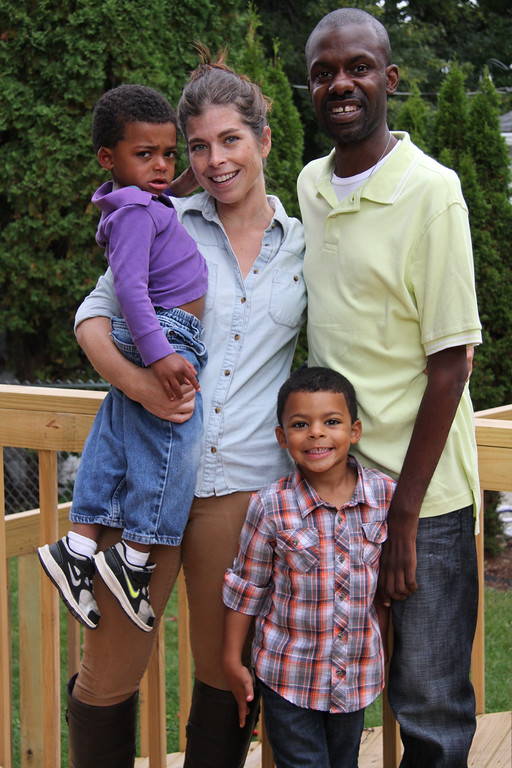 "John was an easy person to fall in love with."
This is one of the first things Tessie Sylvester says when we start chatting at her St. Paul home. She's referring to her husband, John Sylvester.
Soccer fans might recognize John from the Minnesota Thunder, the professional team he played for from 1997-2000. Tessie's young sons, 7-year-old Gus and 5-year-old Freddy, know him simply as Dad.
John passed away on June 16, six years after being diagnosed with ALS. Sometimes referred to as "Lou Gehrig's disease," ALS is a neurological disease that, as it progresses, affects a person's ability to initiate and control muscle movement. Over time, they become unable to walk, eat, speak and -- eventually -- breathe.
In short, ALS is the effing pits.
But John's death isn't why Tessie and her two boys need help. Or it's not entirely why, at least. It's just one half of the story.
An hour after John died, Tessie was diagnosed with inoperable cancer.
Yep.
More specifically, Tessie was on the phone with the funeral home making arrangements for John's service, while laying in bed next to John's body, when she got the call from her doctor.
The outrageous timing of it all seems like something out of a book or movie, we know. And it's just as surreal for Tessie and her family.
Let's break this down.
END OF MAY:
Tessie goes in for a routine physical exam. They run some standard blood work. It comes back slightly abnormal, but Tessie doesn't have any troubling symptoms.
MONDAY, JUNE 12:
Tessie follows up with a specialist. The doctor is concerned and orders further testing.
TUESDAY, JUNE 13:
Tessie goes in for an ultrasound. Something about her liver doesn't look right.
WEDNESDAY, JUNE 14:
Tessie returns for a CT and MRI. A mass is found on her liver.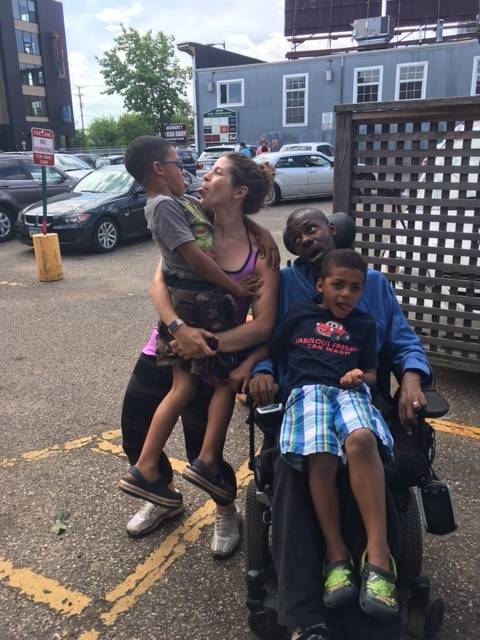 TUESDAY, JUNE 15:
The mass on Tessie's liver is biopsied.
FRIDAY, JUNE 16:
John passes away at 44 years old. Tessie is at his side. One hour later, she gets that damn phone call.
MONDAY, JUNE 19:
Tessie meets with an oncologist. She learns surgery is not an option.
TUESDAY, JUNE 20:
Tessie and her boys attend John's wake.
WEDNESDAY, JUNE 21:
Tessie and her boys attend John's funeral service.
MONDAY, JUNE 26:
Doctors install the port through which Tessie will receive chemotherapy treatments.
TUESDAY, JUNE 27:
Tessie begins chemotherapy.
We think it goes without saying June was an awful, rotten, no good month for the Sylvester family.
When we meet with Tessie, she has just finished her third round of chemo. She recently cut her hair short to ease her sons into the prospect of her possibly losing the rest of it. She hasn't yet told Gus and Freddy about her diagnosis, because did we mention their dad died just six weeks ago? The boys have already been through so much, and Tessie doesn't want them to worry.
"John and I, early on [during his illness], said, 'Our kids can't grow up in this sad, mournful environment -- that's not how it's going to be,'" Tessie says. "'It's going to be about the boys … we're going to give them the childhood they would've had anyway.'"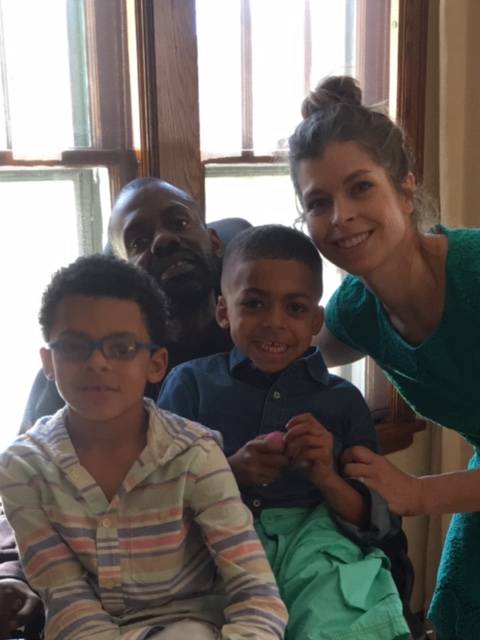 As Tessie faces her own illness, she continues to stick with this plan.
"When people ask how I'm doing it, I say, 'We don't have a choice.' I have two little boys. Am I going to sit in bed all day and feel sorry for myself? So I get up, and we operate like any other day."
As one of six siblings, most of whom live in the St. Paul area, Tessie has found herself surrounded by a village of loved ones who immediately leapt into caretaker mode. For six years, Tessie looked after of John. Now, she's learning to give up control and let others help her.
"You have to be able to take what's good from people, and use it, and absorb it, and let everything else roll off of you," she says. "I don't think I was great at that in the past, and I feel like I'm becoming much better at it."
Your support this month will help keep the Sylvester family afloat financially as Tessie continues treatment. Because Gus and Freddy need their mama.
"People say, 'You've been dealt a tough hand.' I know. But some people have it worse," Tessie says. "What if I was in this position, and I didn't have my family? Or I didn't have all this support from the community? Then what? I know it's bad. And I know it's tough. But it could be worse."
Written by Jordan K. Turgeon