STILL KICKIN HERO JUNE 2019
Every month, we provide financial support to an awesome person or family going through something awful. Meet Jasmine.

Like so many other great love stories, Jasmine and Marcus Murray started out as friends. Because they were just kids when they met: 16-year-old high school students — practically babies! By their early 20s, Jasmine and Marcus were in love, and in May 2016, they became husband and wife. Their favorite thing to do together? Dance. Need proof? Here's how Marcus proposed to Jasmine:
In February 2017, just months after the wedding, Marcus passed out at work. Twice. Doctors discovered he had leukemia — a kind of leukemia typically only found in children. Which was weird, because Marcus was 24 years old? A young guy, for sure, but definitely not a child. Marcus was told he'd probably had the disease since his adolescent years, but the disease had gone undetected until now.
"That's the only time I ever saw Marcus get emotional," Jasmine told us.
By the time doctors caught the leukemia, it'd become too aggressive after wreaking havoc on his system for more than a decade. Jasmine told us it was like her husband had "run out of gas."
Marcus Murray passed out at work on February 17th.
He died three weeks later, on March 10th.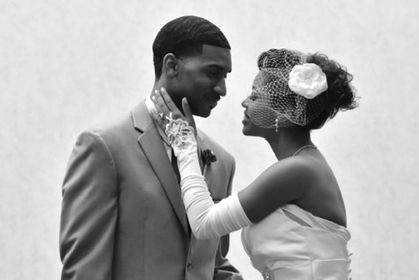 Jasmine and Marcus had been married for just over nine months; in three weeks' time, she went from newlywed to widow. A widow drowning in unexpected medical bills (death is expensive). So Jasmine went to the government office, figuring she must qualify for some kind of widow benefit. Something to help her get back on her feet.
Nope.
Fun fact: In most cases, survivor benefits only apply if A., the widow is 60 years of age or older, or B., a widow is caring for a child from the marriage. Jasmine was just 24 years old, so strike option A. And though she and Marcus had been planning on kids, they hadn't even gotten a chance to try for a baby before he died. So... no benefits for Jasmine. Instead of enjoying continued newlywed bliss, she moved back in with her parents.
And life has continued to serve up a platter of (mostly) crap for Jasmine since she became a 24-year-old widow. Last year, she experienced a cancer scare of her own when she discovered several tumors in her breasts. They ended up being benign, but they needed to be surgically removed. She now has her own medical and surgical bills flooding in on top of Marcus'. "I'm having to start from square one again," Jasmine told us. Thanks to help from your donations and merch purchases, Still Kickin is giving Jasmine a no-strings financial grant to help her get through, well, ALL OF THE THINGS she's gone through these past few years.
Jasmine wasn't sure if she'd ever dance again after losing Marcus; dancing had been such an important part of their relationship, and she'd kinda planned on having a dance partner forever (or at least longer than nine months). But then Jasmine realized she could use dance as a kind of therapy to help her grieve Marcus and keep him in her life. For their one-year wedding anniversary, Jasmine created perhaps one of the most beautiful, most loving tributes we've ever seen. A tribute through dance. And for their second wedding anniversary? She did it again.
Warning: You're going to want a box of tissues for these.