STILL KICKIN HERO April 2019
Every month, we provide financial support to an awesome person or family
going through something awful.
Meet Andy.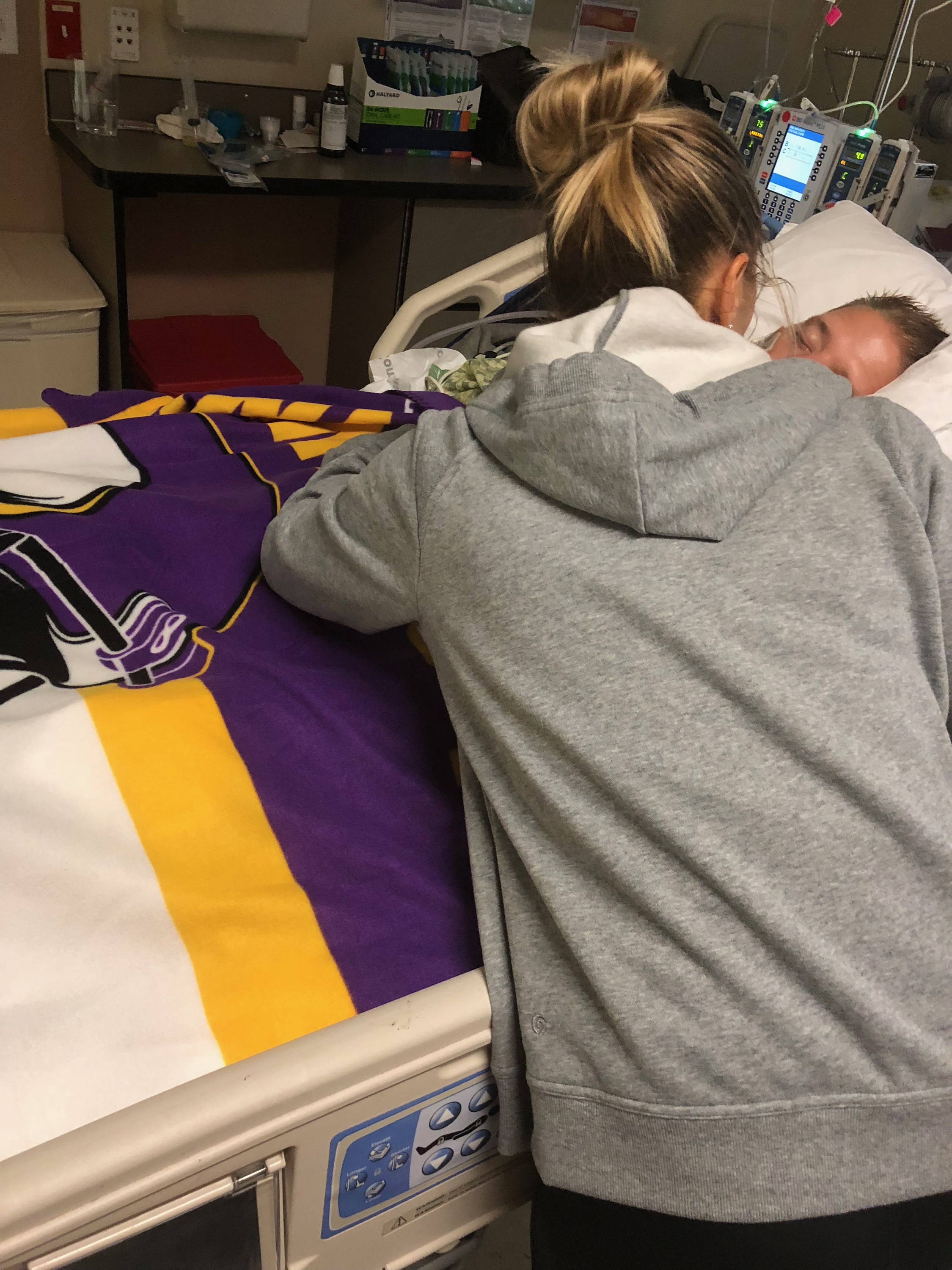 It's a tale as old as time: Husband and his buddies travel to Las Vegas for a fun weekend getaway. Husband isn't feeling so great -- coming down with a cold, maybe? -- but doesn't let that stop him.
But husband gets sicker. WAY sicker. Life-threateningly sicker. So husband is rushed to nearest hospital. Doctors suspect meningitis, or maybe Guillain-Barre syndrome.
Husband is eventually diagnosed with a (very severe) case of West Nile encephalitis.

//RECORD SCRATCH//
Okay, so maybe it's not a tale as old as time. Frankly, when we read Andy McBride's Hero nomination, we all had the same reaction:
WEST NILE? Like… the mysterious and very scary thing that you can get from a mosquito bite and that has most Minnesotans liberally applying bug spray and lighting citronella candles from Memorial Day through Labor Day?
Yes, that West Nile. In Andy's case, the infectious disease attacked and seriously damaged his neurologic and respiratory systems. Doctors weren't sure he was going to make it.
Andy's wife, Mindy, flew out to Vegas right away, which meant leaving her brand new job behind and the two McBride kids back home with family. And this was a difficult thing to do; Andy and Mindy's oldest daughter, 9-year-old Maisie, has a rare neurogenetic disorder called Angelman Syndrome, which causes Maisie to be non-verbal and challenged with seizures, sleep disorder, and gross motor, fine motor, and cognitive delays. All of this impacts Maisie daily, and she requires extra love and care.
The next few months were touch and go; Andy suffered congestive heart failure, kidney failure, and at one point his temperature rose to a seriously dangerous 107 degrees. But he survived all of it, and after spending 213 days in 5 different hospitals/facilities, and after undergoing 4 surgeries and procedures, Andy finally got to go home last week!
Their story isn't over yet, though. Andy still has a lot of physical therapy ahead of him. Combined with his medical bills, the ambulance rides, the med flight back to Minnesota from Vegas, hotel bills, plane tickets, child care coverage, Maisie's continued care, and making the McBride home wheelchair accessible… the costs have added up. With your help, we're giving the McBrides a financial grant to help offset those costs.